Chocolate and Raspberry Cheesecake Brownies
A lifelong fan of the brand, Felicity developed this recipe for our consumer competition to encompass her two favourite things – raspberries and chocolate! A regular holder of dinner parties, she often delights her friends with this recipe, which looks absolutely stunning and tastes sensational.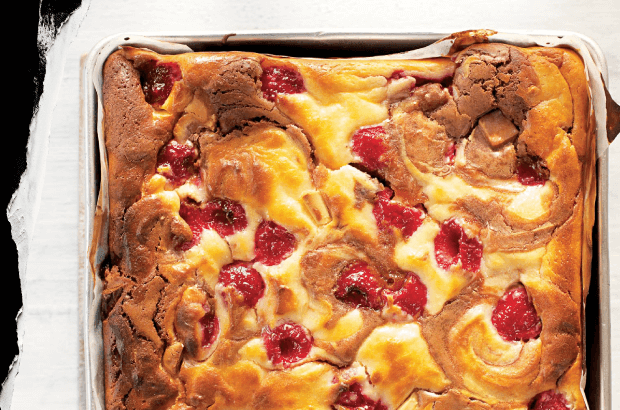 PREPARATION METHOD
Preheat the oven to 180°C/fan 160°C/ gas mark 4. Grease and line a 20cm square brownie tin.

To make the brownie mixture, melt the butter and chocolate in a heatproof bowl over a pan of barely simmering water, making sure the bowl doesn't touch the water. Stir until completely melted and combined. Remove from the heat and set aside to cool.

Combine the sugar, flour and salt in a large mixing bowl, pour over the cooled chocolate and mix until smooth. Beat the eggs separately before adding to the mixing bowl along with the vanilla and the white chocolate. Blend together until you create a shiny chocolaty mixture. Pour this into the prepared tin.

Next, make the cheesecake mixture. Whisk the cream cheese, sugar, vanilla and eggs until smooth and creamy. Pour this carefully over the brownie mix, trying to create an even layer. Drop the raspberries into the tray. Use a fork to drag the cheesecake mix through the brownie mix to create a marbled effect. Try to ensure that all the raspberries are almost fully pushed into the mixture.

Cook in the preheated oven for about 40-45 minutes. After 40 minutes remove the tin and check to see if the brownies are set but still have a slight wobble to them; return to the oven if they need a little longer. Cover the brownies with foil and leave in the tin to cool, before turning out and cutting into squares.
TIPS
The time quoted above is an estimate of the time needed until the recipe is ready to eat, allowing for preparation, baking and resting.
NUTRITION INFORMATION
As you might expect from Green & Black's, this recipe is indulgent and should be enjoyed as a treat..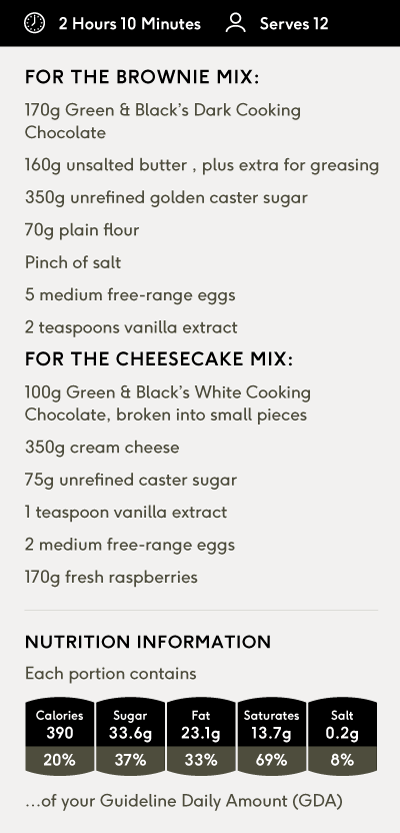 GET CREATIVE WITH GREEN & BLACK'S