Chocolate Sticky Toffee Pudding Cake
Sticky toffee pudding is good. Chocolate sticky toffee pudding is even better. Make this with unctuous medjool dates and you will have the most delightful of cakes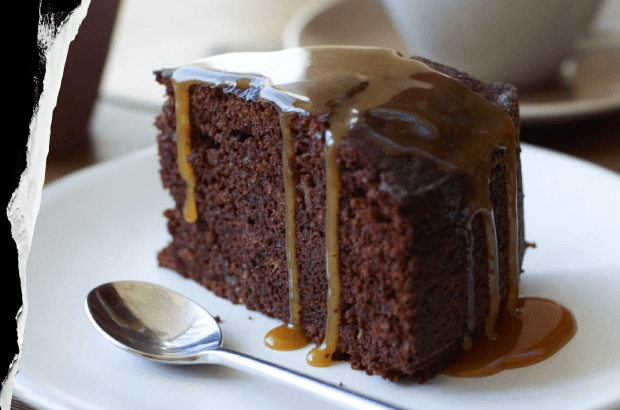 PREPARATION METHOD
Preheat the oven to 180 ºC/gas mark 4. Grease the sides of a 20cm springform tin and line the base with a round disc of baking parchment.

Put the water in a saucepan, reduce to a simmer and soak the dates in it for 10 minutes. Meanwhile, melt the chocolate in a microwave or a heatproof bowl over a pan of barely simmering water, making sure the bowl doesn't touch the water, then set aside to cool.

Cream the softened butter and sugar in a large bowl until light and fluffy. Beat in the eggs, one by one, and then mix in the melted chocolate.

Sift in the flour, bicarbonate of soda and baking powder, then add the dates and their soaking liquid and stir to mix. Pour the mixture into the prepared tin and bake in the oven for 50 minutes until it feels springy to touch or a knife inserted into the middle comes out clean.

To make the toffee sauce, put all the ingredients into a saucepan over a high heat and boil for 4-5 minutes, stirring regularly.

Serve the cake warm on a large plate and pour a generous amount of the hot toffee sauce over the top. Pour the rest into a jug and pass around for people to help themselves.
TIPS
The time quoted above is an estimate of the time needed until the recipe is ready to eat, allowing for preparation, baking and resting.
NUTRITION INFORMATION
As you might expect from Green & Black's, this recipe is indulgent and should be enjoyed as a treat..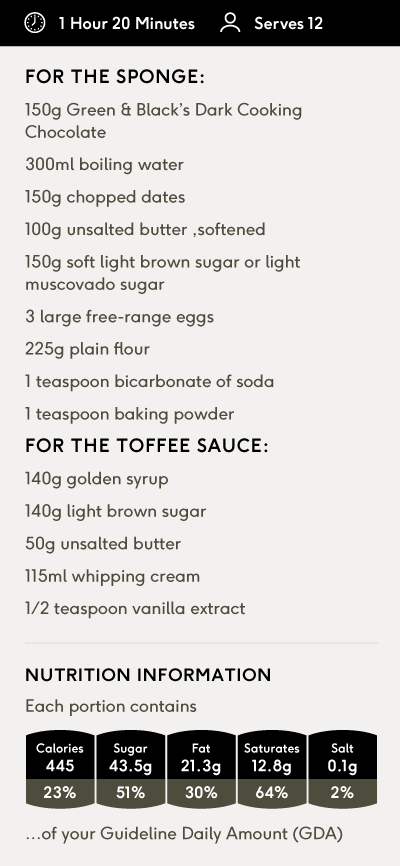 GET CREATIVE WITH GREEN & BLACK'S