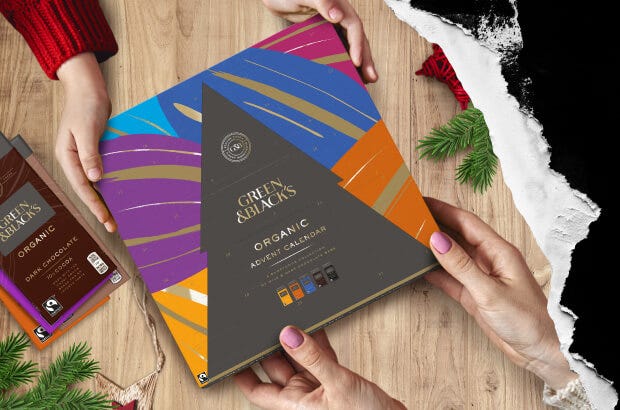 CHRISTMAS GIFT IDEAS
Choose from a range of indulgent and luxury Christmas chocolate gifts and hampers from Green & Black's. Buy ethical Christmas gifts for your friends and family.
CHRISTMAS ORGANIC HAMPERS
Ethically sound exciting Christmas chocolate gifts from Green & Black's. Order today from our range of Christmas chocolates, the perfect festive treat for you and your family! With chocolates including chocolate Christmas hampers, dark chocolate gifts, chocolate and wine you can't go wrong with a chocolate treat from Green & Black's this Christmas! Chocolate gifts for all friends and family this Christmas, all delivered to your door.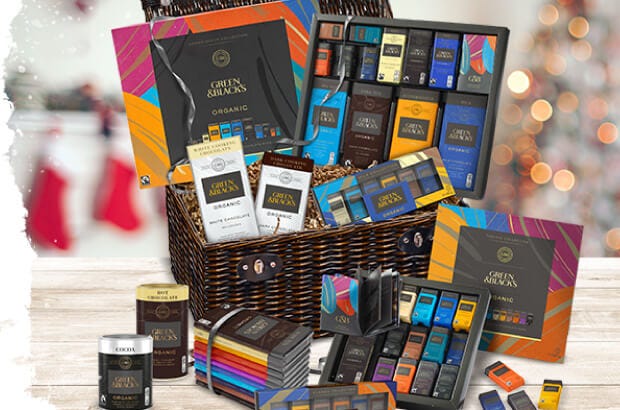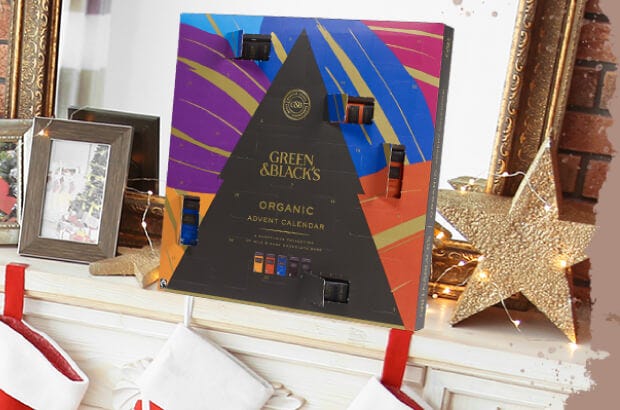 G&B'S ADVENT CALENDAR
Spread festive joy in the run up to Christmas with a Green & Blacks advent calendar this year! Green & Black's milk and dark chocolate Advent Calendar is an elegantly presented, sumptious smooth collection of Dark 70%, Dark Sea Salt, Dark Salted Caramel and Milk Chocolate pralines. Open a door each day to find the tempting treats that have been expertly crafted to make the perfect present for chocolate connoisseurs. Green & Black's individually wrapped dark and milk chocolates. Green & Black's create delicious chocolate made from the finest ethically sourced ingredients.
DARK CHOCOLATE CHRISTMAS GIFTS
For those dark chocolate lovers we have a selection of delicious and intense dark chocolate gifts to choose from. As well as the classic Dark 70% chocolate we have a great range of firm favourites like Dark with Ginger, Maya Gold and Dark 85% which can all be found at Green & Black's so why not have a look and see if you can spot your favourite dark chocolate?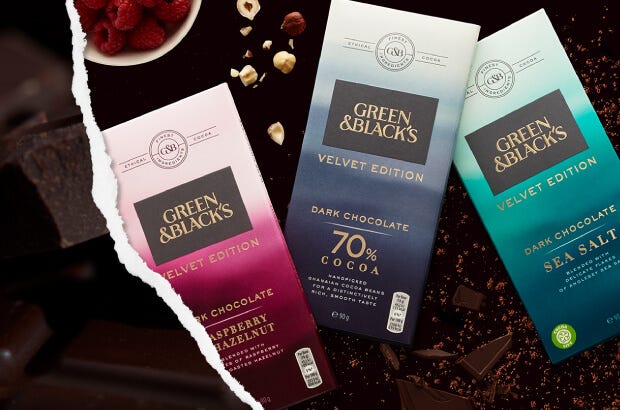 CHRISTMAS CHOCOLATE HAMPERS FOR COUPLES
Choose a Christmas gift with our Green & Black's Tasting Collection of milk, white and dark chocolate alongside a bottle of Prosecco, white or red wine. Give them something they can both enjoy with our range of Christmas gift hampers for couples.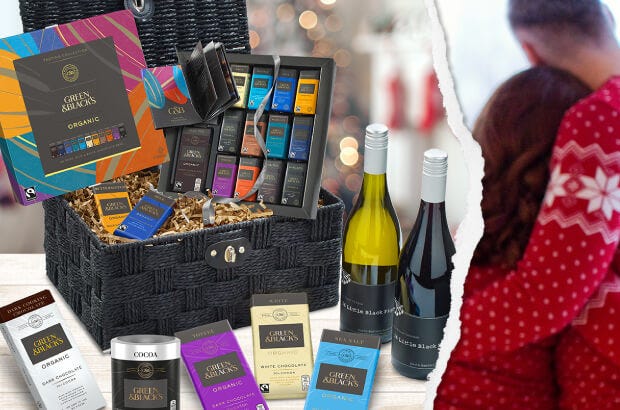 CHRISTMAS GIFTS & HAMPERS

PERSONALISED CHRISTMAS GIFTS
Make it personal with Green & Black's personalised milk, dark and white chocolate bars. The perfect stocking filler! Buy online by 4pm for next day delivery.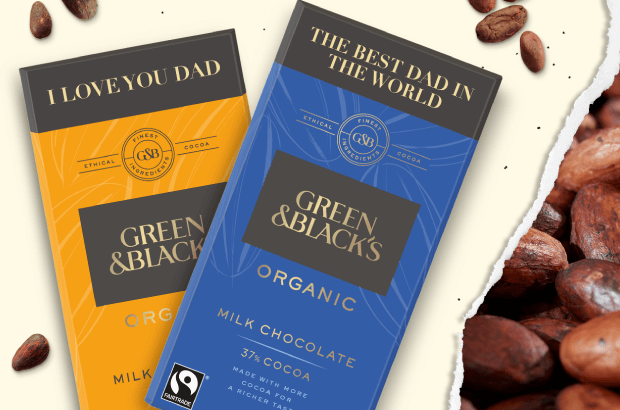 CHRISTMAS GIFTS FOR HER
Choose from a selection of indulgent chocolate baskets and hampers or shop our complete selection of Christmas chocolate gifts for her. Order online by 4pm for next day delivery.
CHRISTMAS GIFTS FOR HIM
Christmas wouldn't be the same without chocolate! Find a range of chocolate treats at Green & Black's - and make sure his festive season is one to remember!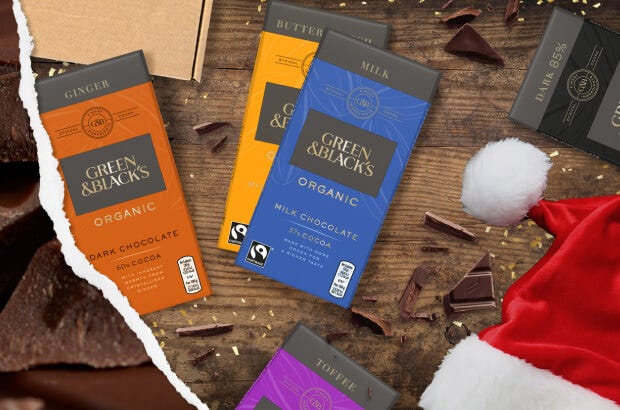 CHRISTMAS CHOCOLATE & WINE HAMPERS & HAMPERS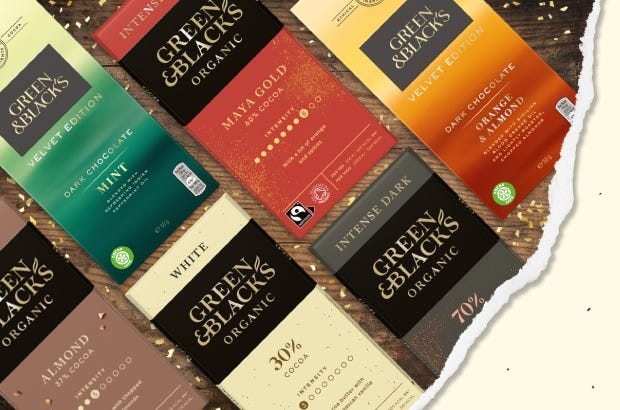 CHRISTMAS CHOCOLATE BARS
Chocolate and Christmas really do go hand in hand! Give your family and friends the gift of indulgence this festive season with organic chocolate treats from Green and Black's, made with ethically sourced cocoa.

Browse for everything from personalised chocolate bars to decadent Christmas selection boxes, hampers and more. Unparalleled in taste, our chocolate Christmas presents are perfect for spoiling everyone on your list, including couples and families.

Shop the full selection online and order by 4pm for next-day delivery; it's that easy to make someone's Christmas extra sweet.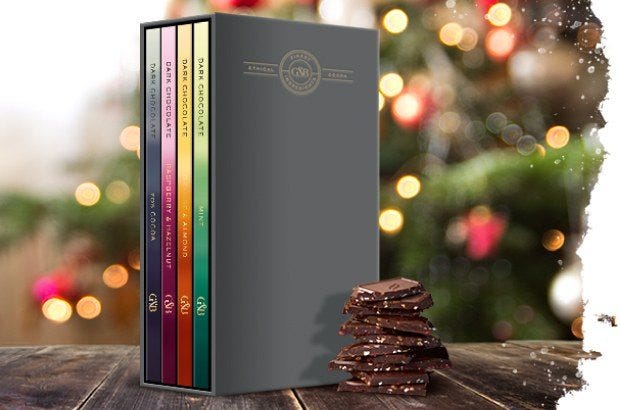 CHRISTMAS SELECTION BOXES
Organic and luxurious, Green and Black's Christmas selection boxes are in a league of their own when it comes to giving meaningful presents.

No matter who you're looking to treat this festive season, our selection boxes are a definite crowd-pleaser, packed full of organic chocolatey goodness made from ethically sourced cocoa. Choose from a wide range of flavours - from scrumptious sea salt to mouth-watering mint - and order your Christmas selection box online by 4pm for next-day delivery.

We also have a range of Christmas hampers (perfect if you're buying for couples or households) and advent calendars to help make your Christmas countdown that little bit more luxurious. You can even browse our most popular chocolate if you're stuck for ideas!
HOT CHOCOLATE CHRISTMAS GIFTS
Tis the season to… keep cosy! And what better way than with a hot chocolate Christmas gift from Green and Black's?

Whether you're splurging on the chocoholic in your household or buying in bulk for a friendship group, a hot chocolate gift set is the ultimate crowd-pleaser and the perfect accompaniment to frosty nights cuddled up on the sofa and crisp mornings spent catching up on emails.

Browse our luxurious and organic hot chocolate Christmas gifts here and order online by 4pm to qualify for next-day delivery. Aside from hot beverages, we also offer a range of Christmas selection boxes and hampers, as well as plenty of other Christmas gift ideas to inspire you this festive season.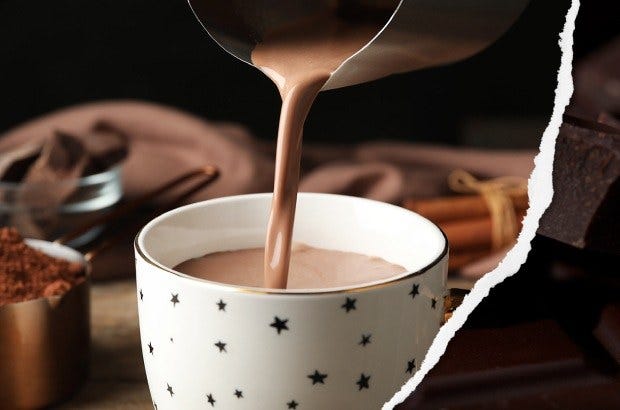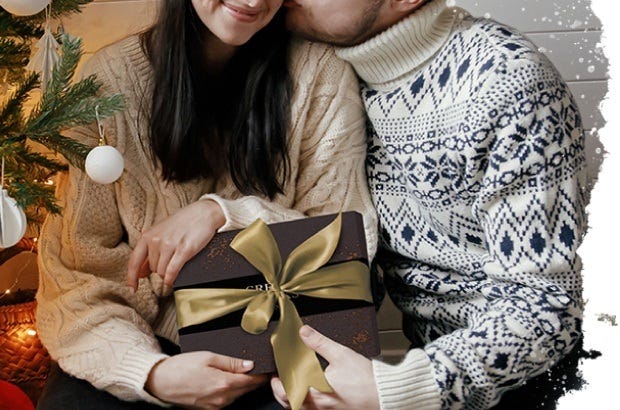 OUR MOST POPULAR CHRISTMAS CHOCOLATE
Whether you're buying for a fussy family member or picky friend, if you're stuck for gift ideas this festive season, our selection of popular Christmas chocolate may give you the inspiration you need.

From selection boxes to hampers, the Green and Black's range is vast and varied - catering to lots of different tastes (whether you've got a hankering for white chocolate or know someone who adores dark chocolate) and budgets too.

Our top Christmas chocolates will hopefully give the inspiration you need to decide on a gift for that special someone. Simply order your chosen present online by 4pm to qualify for next-day delivery.
MINI CHRISTMAS GIFTS
Small - yet sensational all the same - the Green and Black's mini Christmas chocolates range is the perfect stocking filler or Secret Santa present for lovers of luxurious and organic chocolate.

Choose from a hamper filled with miniature milk, dark and white chocolate treats or one filled with indulgent dark chocolate instead, depending on your recipient's tastes.

Mouth-watering and affordable, our small Christmas chocolates range is a guaranteed crowd-pleaser. If you're looking for something on the larger side, have a browse of our Christmas selection boxes and full Christmas gift ideas range too. Whichever gift you go for, simply order online by 4pm to qualify for next-day delivery.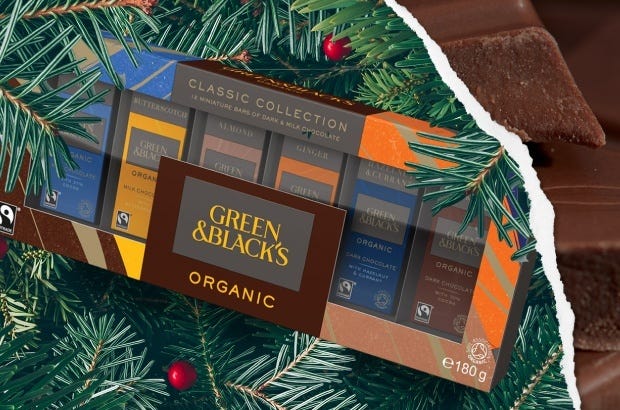 BULK CHRISTMAS CHOCOLATE
Buying bulk Christmas chocolates is the ideal solution if you're wanting to spoil multiple people - whether it's family, friends, colleagues or staff - with luxurious and organic treats.

Taking the hassle out of deciding what to buy each individual, our bulk Christmas chocolates offer the recipient a wide range of flavours and tastes - from balanced, bittersweet dark chocolate to fiery ginger - making them an interesting and thoughtful present choice.

Should you decide to add a more personal touch this Christmas, have a browse of our personalised chocolate selection and deluxe hampers, and order your chocolatey treats before 4pm to qualify for next-day delivery. If you're looking for even more inspiration, make sure to check out our most popular chocolates too.
WHITE CHOCOLATE CHRISTMAS GIFTS
At Green and Black's, we cater to even the fussiest of taste buds. So, if you're looking for a festive gift to satisfy somebody who loves white chocolate, our selection of white chocolate Christmas gifts certainly fits the bill.

Choose from mouth-watering single bars (you can even personalise your chocolate) or selection boxes and hampers that contain a whole variety of different flavours. We also offer a range of indulgent dark chocolate treats for any lovers of cocoa-rich, intense flavours too.

Simply order your white chocolate Christmas gift with us by 4pm to qualify for next-day delivery, and make sure you check out our other Christmas gift ideas for further inspiration.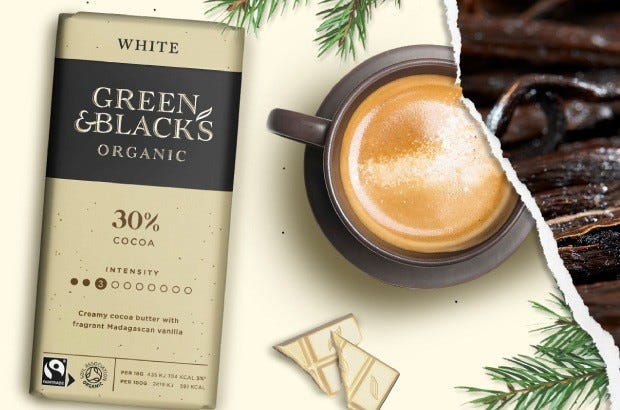 DARK CHOCOLATE CHRISTMAS GIFTS
Christmas is the season for indulgence, and there's nothing more decadent than rich, dark organic chocolate from Green and Black's. Treat the dark chocolate lover on your list to our mouth-watering selection of cocoa-rich bars in a range of intense flavours.

From personalised chocolate bars and tasty stocking stuffers to elaborate Christmas selection boxes and gift hampers, you can choose from a wide array of tempting chocolate treats. We also stock a range of white chocolate Christmas gifts too!

Browse our full range of Christmas gifts ideas, and order by 4pm for next-day delivery.