RETURN POLICY
We sincerely hope that you are pleased with your order. However, if for any reason you wish to return any of the items purchased we will be happy to refund or exchange a product provided it is in a fully resalable condition. Replacements can only be made within 28 days of receipt of goods. If a refund is necessary, it will only be issued to the sender's card - i.e. the card used to purchase the goods in the first instance; and will not be made until goods are returned.
Under the Consumer Protection Regulation you have the right to cancel your contract and obtain a refund at any time up to 7 working days after the day on which you receive the goods you ordered. If you have paid a delivery charge this will also be refunded but if you are only returning part of the order, then we are not obliged to repay any of the delivery charge. You must take reasonable care of the goods whilst in your possession. If we find that the product has not been returned to us in fully resalable condition, we reserve the right to refuse a refund on the item. You must inform us of cancellation of contract.
Please contact our Customer Care Team on 0370 242 2597 or email feedback@greenandblacksdirect.com if you need any further information or assistance.
REFUND POLICY
Should you wish to return anything bought from us, we'll be happy to refund a product provided it's in fully resalable condition. If a refund is necessary, it will only be issued to the sender's card - i.e. the card used to purchase the goods in the first instance; and will not be made until goods are returned. We'll refund the delivery charge on orders if they're returned to us within 7 days of receipt. If an order is returned to us after 7 days from receipt, then we'll refund the delivery charge only if the goods are damaged, faulty or incorrect. Please allow up to 14 days for a refund to show on your bank statement.
Please contact our Customer Care Team on 0370 242 2597 or email feedback@greenandblacksdirect.com if you need any further information or assistance.
RETURNS PROCESS
Your gift should reach the recipient address in good condition but in the event of damage or breakage it may be necessary to arrange a replacement or a refund. If you would like a replacement gift to be delivered or if you prefer a full refund please return the damaged item to Green & Black's Direct, Unit 2 Melmerby Green Road, Barker Business Park, Melmerby, Ripon, North Yorkshire, HG4 5NB including the following details:
Your order number or billing address (including postcode)
The damaged items
Action you would like us to take, refund/replacement
Main reason for returning the item/items
Replacements can only be made within 28 days of receipt of goods.
WHERE'S MY PARCEL?
HELP - MY GIFT HASN'T ARRIVED WHEN IT SHOULD HAVE.
Green and Black's use both Royal Mail and DPD Courier services to deliver gifts and in the vast majority of cases our delivery partners perform an amazing job with parcels arriving on time and in the right place. However, should you have any queries or concerns about your own Green and Black's delivery here's what we can do to help.
Firstly, please check your order confirmation email - this has important information about the requested date of delivery and the delivery address supplied to us. Please check these details first, it is possible the incorrect details may have been entered at the time of sale. We'll send a second email when your order leaves our gift warehouse and depending on what you've purchased, this dispatch email may also contain a tracking link to our courier. Using this link you'll be able to track the progress of your order and retrieve information about its whereabouts.
If you order confirmation doesn't contain a tracking link then you can contact us by email at feedback@greenandblacksdirect.com or phone on 0370 242 2597. Our phone lines are open Monday to Friday 9am to 5pm and Saturdays 9am to 12.30pm (GMT/BST). Please be sure to include your Order Reference number in any communication to help us quickly identify your order and assist with providing information on its whereabouts.
For information, we don't list products on Green & Blacks which are "out of stock" so any delays in delivery are never down to an 'awaiting stock' issue. Likewise, all deliveries are made from within the UK.
At Green & Black's we try as hard as we can to make sure the information about the products we sell is always as accurate as possible. However, because products are regularly improved, the product information, ingredients, nutritional guides and dietary or allergy advice may occasionally change.
Against each product you be able to see information about the allergy and nutritional contents, typically displayed in the format shown below. Here, based on 100g intakes, details are given covering Energy, Fat, Carbohydrate, Fibre, Protein and Salt contents.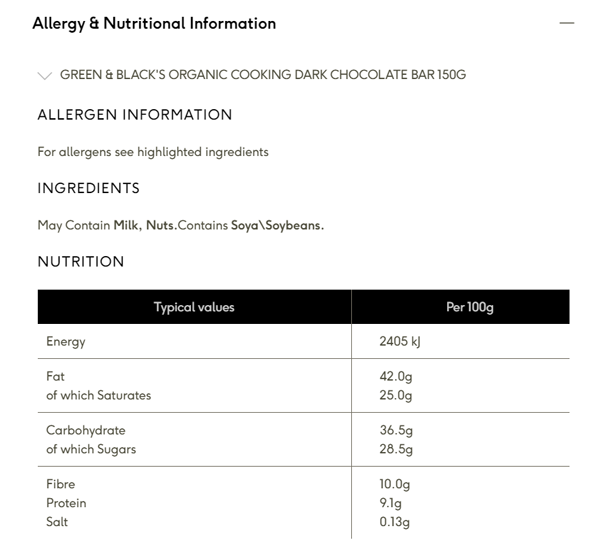 COVID-19 RESPONSE AND UPDATES
At Green & Black's we recognise that that there's a lot on everyone's mind just now. We also know that being able to send a gift to a loved one at home, or a friend you've not seen for a while, is as important as ever. That's why we've continued to maintain our normal service throughout the year, making sure we are keeping our people continually safe whilst ensuring our service continues normally.
Within the UK, our service to you has not been impacted and deliveries are continuing to be made normally. We have, however, updated some of our processes to continue to prioritise the well being of both our customers and that of our amazing team.
Daily Order Limit
At busy periods, Green & Black's has implemented a daily limit on orders in order to keep our team safe and provide you with a good, reliable service. When the order limit has been reached the basket will no longer appear and the buy button will not be active. During these times you will be free to browse the site and return at a less-busy time. During periods of exceptional activity Green & Black's has also introduced an online queuing system to moderate the number of people visiting the site at any one time. This is ensure that the website continues to perform quickly and provides the best possible experience for our customers. We appreciate your understanding and continued support.
Deliveries
Our delivery partners have implemented some changed procedures;
The Royal Mail has issued the following statement on the safety of receiving parcels;
"Public Health England (PHE) has advised that people receiving parcels are not at risk of contracting the coronavirus. From experience with other coronaviruses, we know that these types of viruses don't survive long on objects, such as letters or parcels. This complements the highly publicised guidance from PHE for people to wash their hands more often than usual using soap and hot water".
(for more on this, visit https://www.royalmail.com/coronavirus?iid=HP_M1_CORONAVIRUS)
Contact free delivery: For the moment, you will not be asked to sign for your Green & Black's delivery on the hand-held device. We will normally receive a photo of your parcel at your doorstep as proof of delivery instead.
DPD have introduced a delivery wave programme within their depots meaning that drivers set off at 10 minute intervals to reduce crowding and contact within the depots.
Please note that, owing to the changing situation across the World, there are countries we cannot currently deliver to, and therefore these have been removed from our checkout for the time being. We will continue to follow advice on this.
Our Fulfilment Warehouse
Green & Black's operates from a highly accredited storage and distribution warehousing operating to strict hygiene standards year-round. We have a BRC A rated facility, meaning that our warehouse, processes and procedures have been officially certified by the British Retail Consortium.
Our supervisors screen team members daily including daily temperature checks of all staff and visitors; social distancing measures; use of PPE; continuous access to hand sanitisers and other personal cleaning materials; screen dividers and enhance cleaning protocols. Our staff team are sent home and receive paid leave if they have any suspected symptoms.
Team members that do not need to be present on site are working remotely as a precautionary measure.
All our production team and management within the warehouse wear protective clothing, hairnets and beard-snoods where appropriate as a company standard. Hand washing is extremely important, with stations situated throughout the warehouse and at all staff entrances
We continue to monitor best advice and guidance received from government and public health boards.