Peanut Butter & Chocolate Blondies
The blondie is our dark chocolate brownie's long-lost cousin. This version flicks all the right switches; crunchy peanutty pieces are paired with our milk and white chocolates with just a hint of salt to cut through the richness. Try them as part of a sundae, cut into squares and layered up with ice cream, chocolate sauce and salted, roasted peanuts for a truly decadent dessert.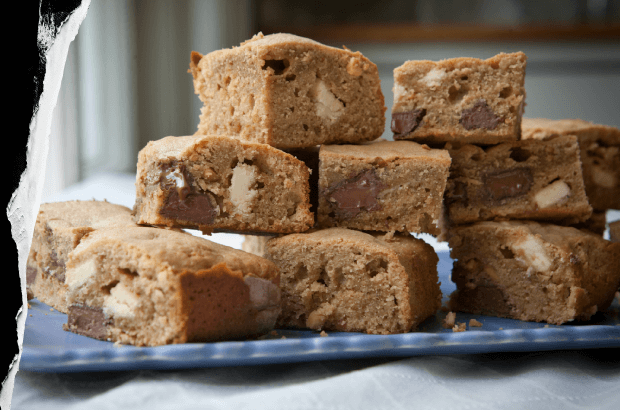 PREPARATION METHOD
Preheat your oven to 170ºC/Gas Mark 3.

Line the bottom of a 20cm x 20cm tin with greaseproof paper.

Cream together the softened butter and peanut butter in a large bowl followed by the sugar, then beat in the eggs, vanilla and salt. Add the flour and mix thoroughly, then add the chocolate and fold in. Pour into the prepared tin and bake for 35-40 minutes or until golden brown.

Allow to cool in the tin. Remove and cut into 16 squares.
TIPS
The time quoted above is an estimate of the time needed until the recipe is ready to eat, allowing for preparation, baking and resting.
NUTRITION INFORMATION
As you might expect from Green & Black's, this recipe is indulgent and should be enjoyed as a treat..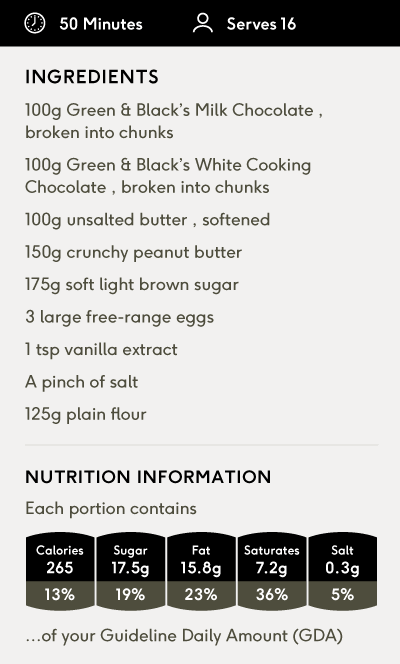 GET CREATIVE WITH GREEN & BLACK'S