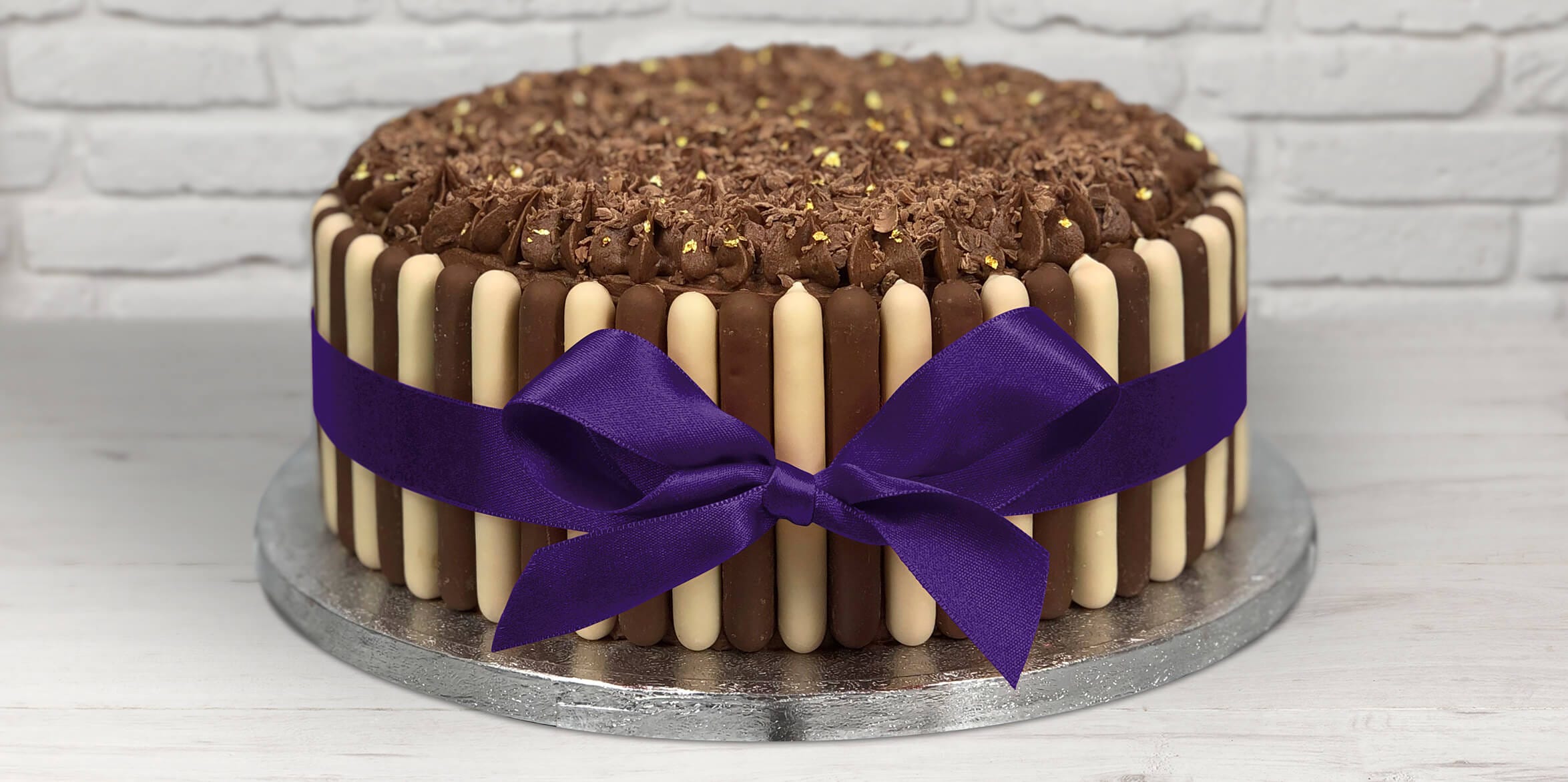 The Cadbury Fingers Family Favourite Chocolate Cake
---
If you're looking for something to share with the family, Cadbury Gifts Direct has the perfect thing for you with our delicious Dairy Milk Fingers. With plenty to go around, they truly are for fingers big and small! Available to order online and delivered direct to your door.
Difficulty:
A little tricky

Time:
75 minutes

Serves:
20

Ingredients
230g baking butter
230g caster sugar
4 large eggs
530g Bournville cocoa
200g self-raising flour
30g Cadbury Bournville Cocoa
2–3 tbsp boiling water
250g block butter
450–500g icing sugar
2 packets Cadbury Dairy Milk Fingers (114g)
2 packets Cadbury White Fingers (114g)
Cadbury Dairy Milk (grated)
gold leaf (optional)
METHOD
Preheat your oven to 200 degrees C, Gas 6

Find two 8 inch cake tins then grease and line them

In a large bowl, cream the butter and sugar using a mixer until it becomes nice pale in colour

Add each egg individually, mixing well in between.

Sieve the flour and Cadbury Bourneville Cocoa together into the bowl and fold in gently using a spatula to get a lovely even colour all the way through.

Split the cake mixture between both cake tins

Bake for 20-25 minutes. Check it with a skewer, and if it comes out clean, it's time to cool your cake!

Now for the delicious buttercream. First, dissolve the Bourneville cocoa in boiling water to make a thick paste and leave to cool.

In a large bowl, whisk the butter until soft. Sieve the icing sugar into the bowl and mix again.

Add the cocoa paste to the buttercream and mix until you get an even colour.

Then Divide the buttercream into four. Use one quarter to sandwich the two halves of the cake together. Use two quarters for the sides and top smoothing out with a palette knife. Place the yummy Cadbury Dairy Milk and White Chocolate Fingers, one after the other, around the circumference.

Pipe the last quarter of the buttercream on the top and grate chocolate over (how chocolatey is up to you!)

And a final touch, add some gold leaf to the top with a cocktail stick

Now time to share with all the family!
A little tip: Why not use baking butter instead of block butter because it keeps the sponge moist!
OUR SELECTION OF CADBURY FINGERS