Deep Fried Chocolate Nut Ice Cream Balls
Micah Carr-Hill has the coveted job of taste ambassador at Green & Black's and is the creative genius behind many of our products. These ice cream balls are a variation on a recipe he created for one of our ice-cream promotions.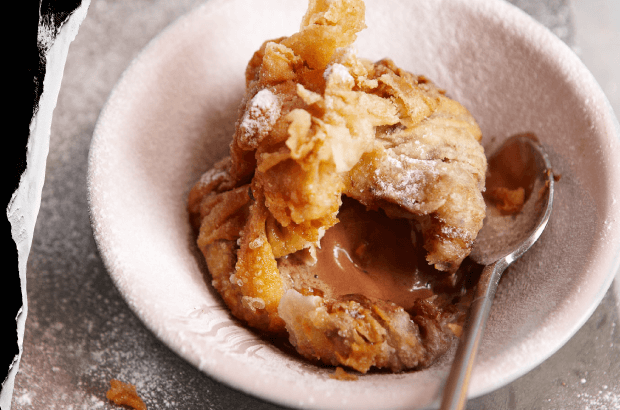 PREPARATION METHOD
Take a tub of dark chocolate ice cream out of the freezer and leave it to soften for 10 minutes. Scoop into balls using an ice-cream scoop dipped in hot water, place them on a non-stick baking tray and return to the freezer for half an hour to harden.

Meanwhile prepare the pastry. Cut the filo pastry into 12cm (5in) squares (you will need 30). Make an egg wash by whisking together the egg yolk, milk and icing sugar. Take a square of filo pastry, brush it with egg wash and sprinkle the hazelnuts over it. Lay a second square over the first at an angle and repeat the brushing and sprinkling. Repeat the process with a final square. Continue until you have ten, triple layers of filo brushed with egg wash and sprinkled with nuts.

Preheat a heavy-based saucepan (or a deep-fat fryer), one-third filled with oil, to 180°C/350°F.

Take the ice cream balls out of the freezer and place one in the centre of each triple layer of pastry. Carefully wrap the filo around the balls without tearing the pastry. If you are not deep-frying the balls straight away put them back in the freezer until you need them so that the ice cream does not melt.

Using a metal slotted spoon, put the wrapped balls into the hot oil (no more than three at a time to ensure the oil does not cool down too much) and fry until golden brown; this will take about 90 seconds. Remove and drain on kitchen paper. Serve immediately with shavings of dark chocolate.
TIPS
We recommend using a digital temperature probe to ensure the temperature of the oil is hot enough. If the oil cools down it will soak into the filo and melt the ice cream rather than creating a crisp pastry with insulating air pockets.
NUTRITION INFORMATION
As you might expect from Green & Black's, this recipe is indulgent and should be enjoyed as a treat..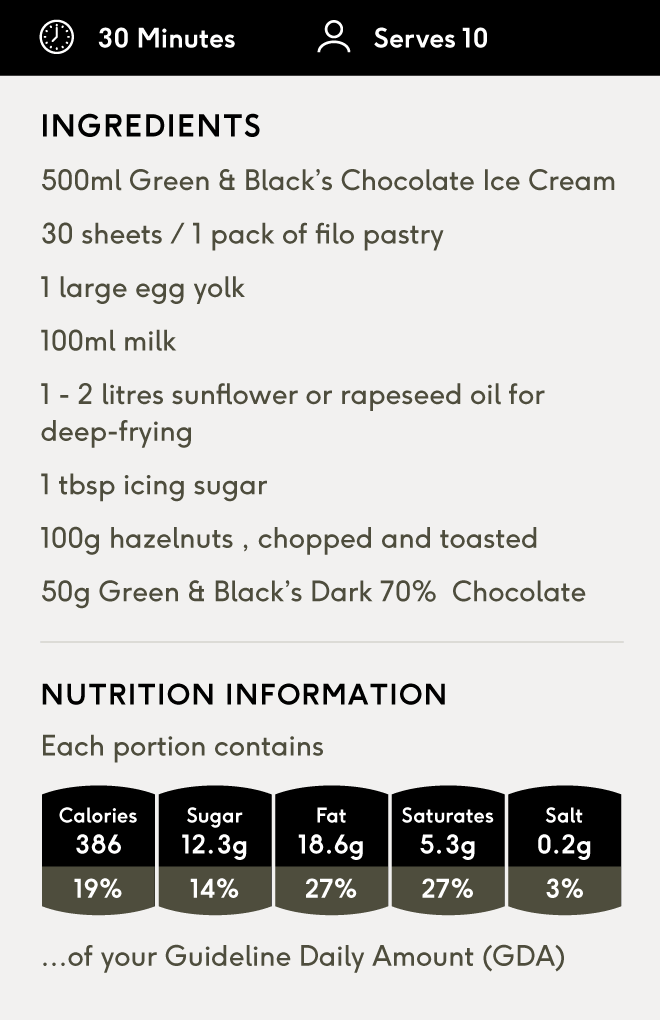 GET CREATIVE WITH GREEN & BLACK'S